Goof Troop (1992)
Spoonerville is the new home of Goofy -- one of Disney's most venerable animated characters -- who's now a single dad raising a young son, Max. Living next door to them is Pete, Goofy's old high school pal and the owner of Honest Pete's Used Cars.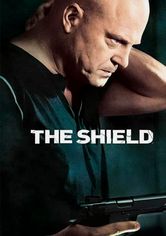 The Shield (2002-2008)
As leader of the Los Angeles police department's controversial Strike Team unit, Det. Vic Mackey is above the law, stopping at nothing to rid the streets of gangland thugs. His questionable tactics constantly place him at odds with his superiors.